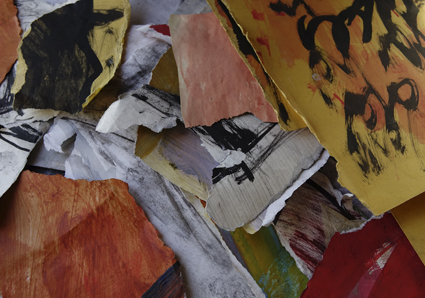 Woorden over beeldend werk zeggen vaak weinig. Beelden spreken een eigen taal: een vormentaal in eigen handschrift maar ook een beeldtaal met eigen thematiek. Waar vorm en beeld spannend samengaan ontstaat zeggingskracht.
Mijn beelden ontlenen hun zeggingskracht steeds weer aan vitaliteit en, zeg maar, dramatiek. De vitaliteit in vorm, kleur, compositie en contrast; de dramatiek in oer-motieven en elementaire tegenstellingen.De beelden zijn ongepolijst en vaak rauw, als een spiegel van de wereld om ons heen.
Mijn beeldend werk is altijd op zoek naar iets nieuws. Tegelijkertijd blijft het trouw aan eerder werk. Het claimt zijn eigen vorm en streeft iets algemeen herkenbaars na. Chaos, geweld en gevoeligheid, schoonheid, verdriet en ontroering zijn als onderstroom of schaduwkant altijd weer te vinden. Uiteindelijk abstraheert mijn werk in dit soort thema's de essenties van het aardse en algemeen menselijke.
Trained at the Rijksacademie in Amsterdam and the Vrije Akademie in The Hague, her tutors were Jan van Heel, Jan Sierhuis and Wil Bouthoorn. She lives and works in Leiden where she works as an artist, and psychologist. About her painting, Verbist says:
Words about visual work often fall short. Images have their own idiom: a language of form in a unique style and a visual syntax with its own, individual, theme. The intriguing coalescence of shape and image engenders expressive power. My images derive their eloquence from vitality and, you might say, drama. The vitality of shape, colour, composition and contrast. The drama of underlying human motives and primal antitheses.

My visual work is constantly in search of something new. And yet remains true to previous work. It lays claim to a singular form and strives for something universally recognizable. Chaos, violence and vulnerability, beauty, sorrow and poignancy are always present as an undercurrent or shadow-side. My work ultimately abstracts – translates – the essence of the earthly and the universally hu
Estudió en la academia Rijksacademie en Ámsterdam y en la Vrije Akademie en La Haya y ha tenido como maestros a Jan van Heel, Jan Sierhuis y Wil Bouthoorn. Es pintora y, además, psicóloga en Leiden.Ella misma describe su obra como sigue:
'Las palabras sobre el arte plástico no expresan, a menudo, gran cosa. Las imágenes tienen una lengua propia: el idioma de las formas y de las figuras con una escritura particular, con una temática personal. Allí donde la forma se une apasionadamente a la imagen surge la elocuencia. Mis imágenes toman su expresividad de la vitalidad y, digamos, del dramatismo. La vitalidad en la forma, el color, la composición y el contraste; el dramatismo, en los motivos primarios y en las contradicciones elementales.
Mi obra plástiac siempre anda buscando algo nuevo. La violencia, la sensi bilidad, el caos, el sufrimiento, la conmoción y la belleza siempre están presentes como sombra o corriente subterránea.